An Evening with George Winston
November 16, 2014
8:00 PM
at

Hangar Theatre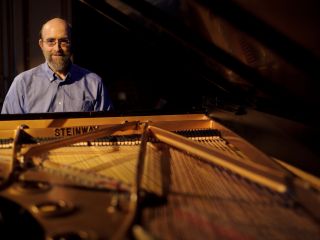 Please join us in support of a local food bank by bringing a donation of canned food to the concert. There will be collection baskets at the entrances.
George Winston grew up mainly in Montana, and also spent his later formative years in Mississippi and Florida. During this time, his favorite music was instrumental rock and instrumental R&B, including Floyd Cramer, the Ventures, Booker T & The MG's, Jimmy Smith, and many more. Inspired by R&B, jazz, Blues and rock (especially the Doors), George began playing organ in 1967. In 1971 he switched to the acoustic piano after hearing recordings from the 1920s and the 1930s by the legendary stride pianists Thomas "Fats" Waller and the late Teddy Wilson. In addition to working on stride piano, he also at this time came up with this own style of melodic instrumental music on solo piano, called folk piano. In 1972, he recorded his first solo piano album, BALLADS AND BLUES 1972, for the late guitarist John Fahey's Takoma label.
George is also working on solo guitar and is recording the masters of the Hawaiian Slack Key guitar for an extensive series of albums for Dancing Cat Records (www.dancingcat.com). Slack Key is the name for the beautiful solo fingerstyle guitar tradition, unique to Hawaii, which began in the early 1800s and predated the steel guitar by over half a century. He is also recording his main inspirations for his harmonica playing, Sam Hinton, Rick Epping, and Curt Bouterse.


Tickets can be Purchased by:
Visit: The Hangar Theatre Business Office in Center Ithaca on the Downtown Commons at 171 E. State St., Ithaca, NY 14850 (9-5, Mon-Fri)
At the Theatre on 4/26: The Hangar Theatre is located at 801 Taughannock Blvd., Ithaca, NY 14850
Event type: Upcoming Events